I gotta be honest….. I was not at all into the idea of living with 5 other girls. FIVE. I had lived in a dorm room by myself for 3 semesters, due to being a chronic migraine sufferer that warranted having my own room. I was approached by my friends Leah and Kayle, asking if I would come to live with them in the Village.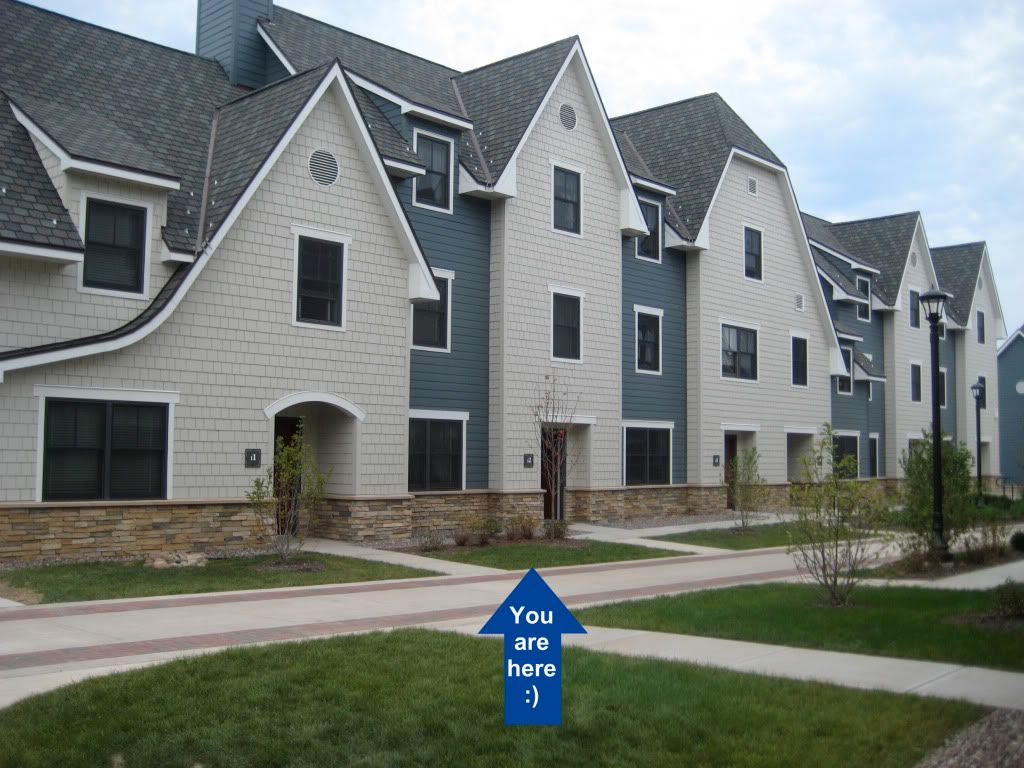 I can proudly proclaim that I am calling Building I home until May 2011….. and maybe longer than that!
So you may be wondering about the title of this post… one of my closest friends and the cutest little hardcore-music-loving-girl I know lives not two steps away from my door. She's got a tattoo on her foot that says "to be the last one standing" arched over a perfect sunflower. I've always been inspired by little snippets of lyrics like that, and I think deep down inside, my inner biker chick is craving a tattoo of some sort…. someday. But don't tell my mom.
Anyway, I love my housemates. I love my home. I love EVERYTHING right now. I've got a killer schedule this semester (and by killer, I mean FLIPPIN' AWESOME) which allows me to start at 3pm on Monday and Wednesday, start at 11am on Tuesday and Thursday, and take Friday off! I had to schedule my classes this way since I'm attending two weddings this semester: my cousin Jill's wedding and fulfilling Maid of Honor duties for my sister's wedding. It also allows me to squeeze in a session of physical therapy three times a week, and leaves me with an empty house for most of the morning which allows for lots of household chores to be completed.
Alpha Phi Omega is also starting up this week, as we are preparing Rush events for the Fall 2010 pledging season! Not to shamelessly plug (but really to shamelessly plug) if you are interested, please search "Volunteering is Sexy" on Facebook and join the group for more information (or just click that link). If you didn't already know it, community service is a very valuable asset to any resume, not to mention it just feels good to do good deeds for people, with nothing but gratitude in return. I feel passionately about this organization, and have held an executive position within the Fraternity during its most successful pledging semester in years. I'm so glad to see that this campus is taking notice of the organization that our alumni Brothers have laid the foundation for, and the work that current Brothers have put in to make it the premiere service organization on campus.
So, I guess that's where I'm at right now. I wish I could make this entry a little more interesting to read like my previous posts, but we all need a cliche "this is how I'm doing" post, right?